Traditional Dental Bridges vs. Implant-supported Dental Bridges
By Van O'Dell, DDS on September 25, 2017
---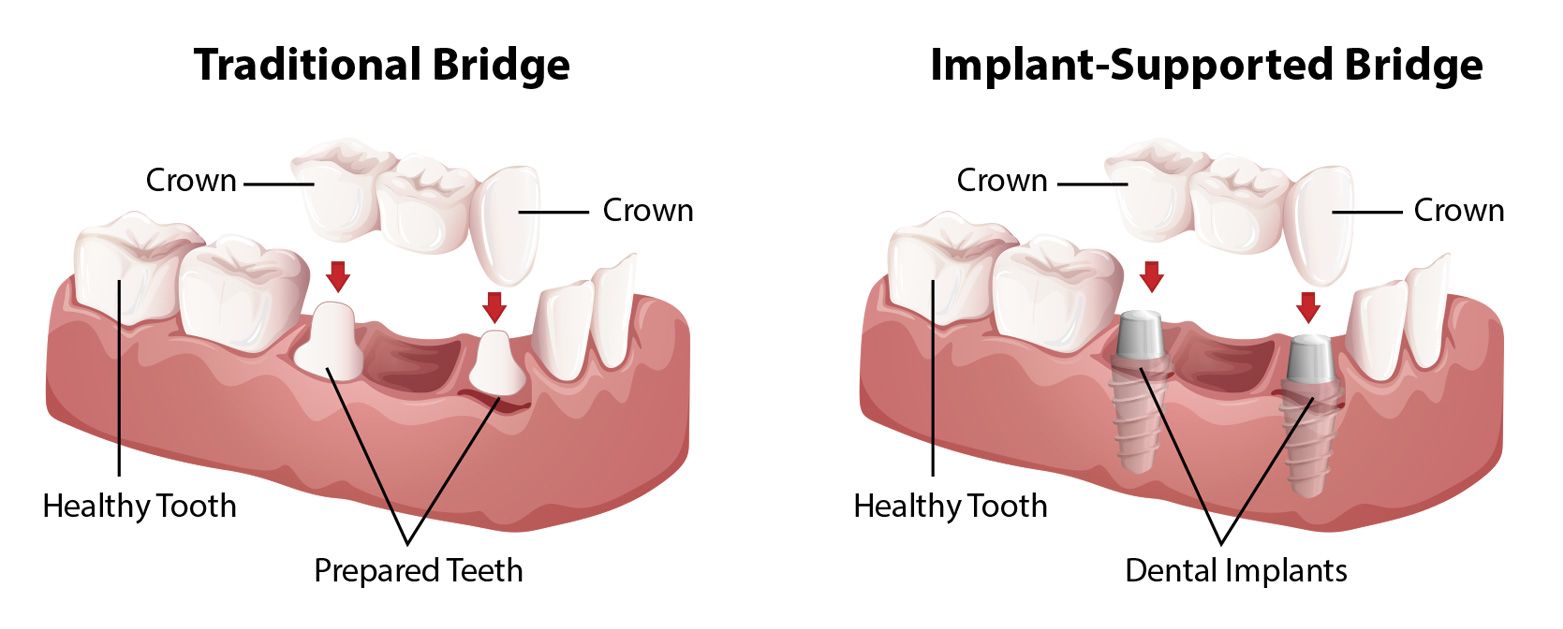 If you are missing one or more of your natural teeth, it is extremely important that you seek treatment right away. Missing teeth pose a greater threat to your oral health than you may realize. While they certainly affect the appearance of your smile, missing teeth also trigger a number of adverse effects in the body, including the degradation of the gum and bone tissue that once supported these teeth. Fortunately, dentistry offers a tried-and-true solution to missing teeth in the form of dental bridges.
What you might not have known, however, is that there are two methods of securing dental bridges in your mouth, and they work quite differently. At the cosmetic and family dentistry practice of Dr. Van O'Dell, we proudly offer both traditional fixed dental bridges and bridges supported by dental implants. In discussing traditional vs. implant-supported bridges during consultations at his North Little Rock, AR practice, Dr. O'Dell carefully explains the benefits and risks of each, helping patients to determine which treatment option is best suited to their unique needs and goals.
Which technique for securing dental bridges is right for you? Are you a good candidate for a traditional dental bridge, or would you be better served by an implant-supported bridge? To find out, please schedule your initial consultation with Dr. Van O'Dell today.
Traditional Dental Bridges
Traditional dental bridges are also called fixed dental bridges because they are fixed in the mouth and cannot be removed by hand. They are secured to the teeth adjacent to the space once occupied by natural teeth via dental crowns. These crowns are attached to one to three replacement teeth called pontics. With the crowns in place, these pontics fill the gap left vacant by the now-missing natural teeth, completing the patient's smile.
Traditional dental bridges offer multiple benefits, including:
They fill the empty gap between natural teeth, which prevents those teeth from shifting out of their optimal positions in the mouth towards the gap, causing problems with the bite.
Dr. O'Dell uses the finest materials to create his traditional dental bridges, which ensures their strength and flawless appearance.
Traditional dental bridges are extremely durable; with proper care, they can last for ten years or even longer.
Although highly effective, it must be noted that traditional dental bridges do rely on healthy natural teeth for support, which is never ideal. To accommodate the dental crowns that hold the bridge in place, these natural teeth must first be filed down.
Implant-supported Dental Bridges
On the other hand, implant-supported dental bridges do not rely on natural teeth for stabilization. Instead, they are supported by titanium implant posts, similar to tiny screws, that are surgically embedded in the jaw. Over time, these titanium posts fuse with the bone, where they act as strong, secure roots for the dental bridges.
Implant-supported bridges provide the same benefits as traditional dental bridges, in addition to:
Bringing an end to gum and bone degradation associated with tooth loss.
Lasting for decades and possibly even a lifetime.
Securing the dental bridge below the gum line, which helps them to look even more natural.
Learn More about Traditional vs. Implant-supported Dental Bridges
To learn more about traditional vs. implant-supported dental bridges, please contact our cosmetic and family dentistry practice today.
Related to This
"The front office staff is wonderful, and Dr. O'Dell is an amazing dentist! He always makes me feel comfortable and well taken care of."

Kayla F.